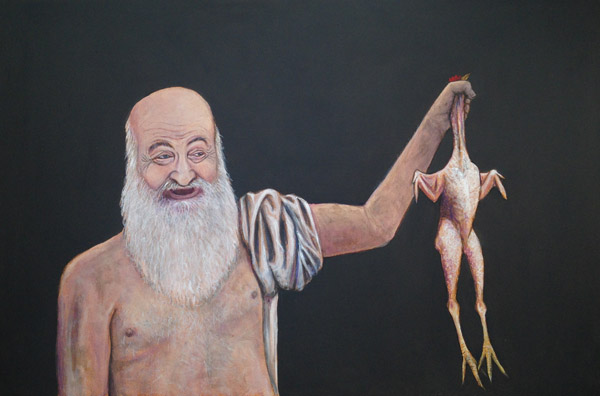 Acrylic on canvas 762mm x 508mm (30″ x 20″)

Diogenes is my favourite ancient greek philosopher.
Diogenes made a virtue of poverty. He begged for a living and often slept in a large ceramic jar in the marketplace. He became notorious for his philosophical stunts such as carrying a lamp in the daytime, claiming to be looking for an honest man. He criticized and embarrassed Plato, disputed his interpretation of Socrates and sabotaged his lectures, sometimes distracting attendees by bringing food and eating during the discussions. Diogenes was also responsible for publicly mocking Alexander the Great.
Here I have painted him holding a plucked chicken, a reference to one of his infamous run-ins with Plato.
Plato liked to 'interpret' Socrates, and on one occasion spoke of his definition of man as a "featherless biped".
Allegedly, Diogenes plucked a chicken and brought it into Plato's Academy, saying, "Behold! I've brought you a man."